Collaboration
When I decided to take back management of NYNonProfit it was important to me that our meetings were open, processes were transparent and that our mission was clear.
I hope that open meetings of foundations, family offices and nonprofits will become the norm.
Real-time feedback from Elected Officials is equally important and I am happy that Council Person Costa Constantinides joined our most recent meeting.
Costa is the Council Person for Astoria, East Elmhurst, Rikers Island, Jackson Heights and parts of Woodhaven, Queens.
Costa spoke about recent and anticipated economic development which will lead to jobs for the city's residents. He also spoke about his work with Rikers Island and workforce programs with the newly released, formerly incarcerated. Costa has written some of the toughest legislation on air quality and discussed how pollution is increasing the incidence of asthma, an issue of Chris Norwood, Founder of Health People. Health People is based in the Bronx and that borough's residents have some of the highest rate of asthma in the city. Joel Berg, Executive Director of NYC Coalition Against Hunger favorably commented on the Paid Sick Leave Act.
Shawn Dove, Manager of the Open Society Institute's Campaign for Black Male Achievement, which was started in 2008 to address the exclusion of black men and boys, economically, politically and socially also addressed the attendees – stressing how foundations including the Open Society Foundations look to fund nonprofit organizations that collaborate rather than compete against each other.
Erik Grimmelmann, President and CEO of the New York Tech Council, a nonprofit organization that focuses on developing and promoting the technology industry, engaged with a simple problem with, possibly, an elegant solution: how to get College students on LinkedIn and 'business social'. We have depositories of jobs, but not of applicants. We have 'Made in NY' jobs, but not its complement.
The start of things is important, I can think of no other way to get to the middle or achieve an end.
For me, and this re-boot of sorts of NYNonProft, the start is getting a diverse mix of agencies, nonprofits, funders, programs and their directors, policy specialists and politicans to start a vital conversation with 'Hello'.
That is the best beginning. "Hello" has been the start of wonderful things.
Guest Author Council Member Costa Constantinides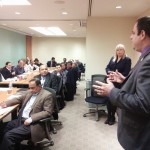 New York is the city of opportunity. March 29, 2014 by Costa Constantinides New York is the city of opportunity. That's not the case for everyone. One demographic that must be addressed compassionately is the recently incarcerated.  This population frequently finds many roadblocks that make their job hunt longer and more arduous. Everything from discriminat..  (Read more)
Shawn Dove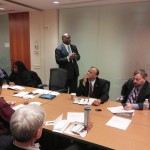 How Should Philanthropy Respond to Obama's Speech on Black Men and Boys? July 21, 2013   by Shawn Dove How do we as a nation now heal from the open wound caused by the Zimmerman verdict? Words from Rev. Martin Luther King Jr.'s last book, Where Do We Go From Here: Chaos or Community?, offer guidance: "We are now faced (read more)
(Visited 546 times, 1 visits today)