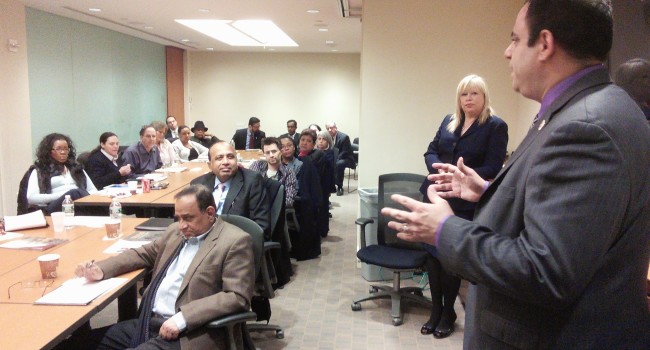 New York is the city of opportunity.
March 29, 2014 by Costa Constantinides
New York is the city of opportunity.
That's not the case for everyone.
One demographic that must be addressed compassionately is the recently incarcerated.  This population frequently finds many roadblocks that make their job hunt longer and more arduous. Everything from discrimination, resume and skill gaps, to simple things like a lack of business appropriate clothing can be significant roadblocks to gaining and keeping employment.
The Doe Fund works to break the cycles of homelessness, addiction, and criminal recidivism.  All of the Doe Fund's programs and innovative business ventures help homeless and formerly incarcerated individuals achieve permanent self-sufficiency. I look forward to bringing the Doe Fund to my district and working with many non-profits to meet the challenges of post incarceration.
Often the next task after finding a job is making sure you can be at work every day. In the past, some had to choose between their paycheck and their health because some employers did not offer paid sick leave.
The City Council recently passed the Earned Sick Time law, mandating that all employers with 5 employees or less need to allow their staff to take time off if they or their children are sick, without risk of being fired.  I look forward to working with the Mayor to see the law implemented, to increase employer awareness and that outreach materials are as diverse as the languages in our communities.
Great philanthropic organizations like NYNonProfit make investments in people, encourages collaboration, innovation, and entrepreneurship while supporting social services programs that includes Workforce, Hunger, Vets, Housing and advocacy organizations. This is the key to helping to bridge the gap between those who we in government seek to help and those who can.
Quality of life concerns include air quality and environmental protection. In a city where one of the primary reasons that children miss school is due to an asthma-related illness, we must all make sure we're keeping our environment clean.
As a longtime environmental activist, I believe a clean environment and better air quality are a top priority and I have worked to bring them to the top of my legislative and policy agenda.
I recently introduced INT #54, which makes our city ferries more green and efficient.  The bill mandates that all city ferries use biodiesel as part of their fuel source.
This bill will improve our air quality while staying committed to expanding the use of green energy and making our city more sustainable.  It will also create more green jobs and contribute to the city's economic development.  The biodiesel blend is created in New York, providing key job growth and opportunities for job seekers.
We are also working on a bill to improve the air quality in city-owned buildings, including NYCHA housing and city-owned buildings.  Currently, the Department of Environmental Protection has no mandate to test the air-quality of these buildings and the NYCHA population, typically underrepresented, very often goes overlooked.
This bill will make sure we know the challenges we face within these buildings and allow for a roadmap to improve indoor air quality there to be created.
I look forward to continuing to make our government work for the people.  I also pledge to support the groups that do the grassroots, on-the-ground work with the residents of our city.
Related articles
(Visited 85 times, 1 visits today)